George Weah has lived a life in three acts.
It has seen him move from a childhood in the slums of the capital Monrovia, to Europe's most famous football pitches and now president of Liberia.
So how did the man known as "King George" to his supporters come to get Liberia's top job?
Growing up
It will take you less than half an hour to drive between Clara Town, the slum where Mr Weah grew up, and the Executive Mansion.
And yet, they are a world apart.
Mr Weah was sent to Clara Town – an area built on a swamp and beset by disease and overcrowding – to live with his grandmother by his parents, who lived in south-eastern Grand Kru County, one of Liberia's most under-developed areas.
This less-than-auspicious start is one of the things which makes him such a hero to his supporters.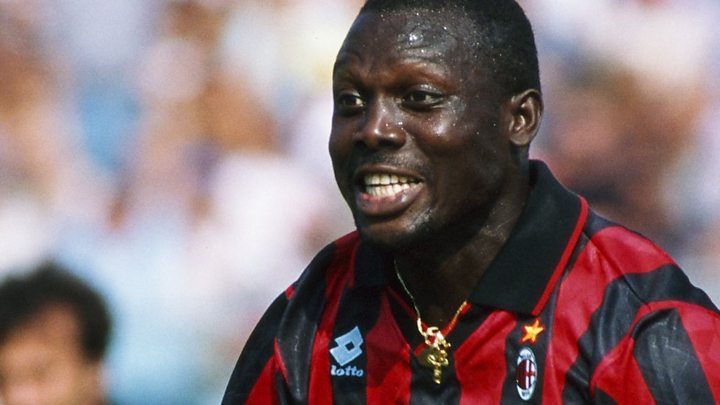 It was Mr Weah's talent and determination which gave him a route out of Clara Town. As a teenager, he began playing league football in Liberia, eventually dropping out of school in his final year to concentrate on the sport – a decision that led to riches but which would come back to haunt him almost two decades later.
Football star
Mr Weah's life changed forever when, aged 21, Arsene Wenger spotted him playing for a team in Cameroon.
The manager brought him over to Europe, where he would play for AS Monaco. From there, it was on to Paris Saint Germain, AC Milan, Chelsea, Manchester City and Olympique Marseille.

Seven things about George Weah:

Born 1 October, 1966, grew up in a slum in Liberia's capital
Signed by Arsene Wenger to Monaco from Cameroonian club Tonnerre Yaoundé
Made Monaco debut in 1987, went on to play for AC Milan, Paris Saint-Germain and Chelsea
Only African to win Fifa World Player of the Year
First ran for president in 2005, losing to Ellen Johnson Sirleaf
Graduated with a business degree from a US university after being accused of lacking education
Elected president in December 2017